NFT Value and Popularity Skyrocket in 2021 and 2022
NFT popularity has exploded in the last year thanks to mainstream media-coverage. Bloomberg reports that the entire market surpassed $40 Billion USD in market volume. This has been amplified by some of the biggest celebrity endorsements, cryptocurrency price records and record-breaking deals. NFTs have also enabled some broke people to become rich. become a way for the "regular person" to own an exclusive piece of history. What exactly does the most expensive NFT mean for this popularity and how can regular people join in the action? But first, let's see what an NFT is and does.
NFTs are Officially Mainstream
As the world economy has become increasingly reliant upon digital exchange of information, this has made both the physical computers more valuable, but more so the cloud services. Cloud services are intangible to the user and not susceptible to damage, just like an NFT.
The same goes for an NFT. However an NFT is stored on multiple computers around the world and the only person who owns it is the owner. It seems simple and it is that simple. An NFT is more than a jpg, it represents a fractional ownership of a technological network not easily understood. A computer network many times more powerful than cloud services.
NFTs have become a household word…
It's growth is similar to the way that the internet and cemented it's way in culture and society when the smartphone brought high-speed internet to all, anywhere. Everyone is spending more and more time in the digital world. According to Pew Research, more than 30% of Americans are online constantly. Humans are slowly evolving into digital natives.
People demand ownership of their digital assets, and that is exhibited with NFTs
Our article What is an NFT goes more in-depth about what NFTs are.
What Makes the Most Expensive NFT so Valuable?
NFTs are undeniable verification of ownership. They are a distinctive token of possession that has a value. Just like any other possession, they can be bought and sold. Unlike physical possessions which must be stored, NFTs remain on the blockchain.
Buying and selling NFTs does not require a special permit. It does not typically require registration anywhere. Hence their highly speculative nature and valuations. Anyone can buy or sell without bias
Since NFTs have no regulated marketplace and are speculative and pseudonymous, they are prone to higher price speculation.
Since NFTs do not require a marketplace, it reduces transactional friction. Reducing costs for consumers and increasing profits for consumers. Even the most expensive NFTs benefit from this.
An additional vital thing is that the market of NFT is a nicely accessible place for investing, unlike our stock markets that are daunting for plenty of individuals, it's an investment that cannot be destroyed and is essentially "just a JPG" to the regular person. NFTs are highly speculative.
NFTs are Speculative
NFTs also have their fair share of issues, as well as debates. Unique art pieces can be electronically developed just with the help of an ideal code. Digital property is additionally tough to generate income from.
Another troubling truth is that if one owns the NFT of a piece of work they're still not the real owner of the layout itself, suggesting one can't start printing t-shirts with the NFT layout on them. Regardless of these realities, the pattern which NFTs have had the ability to pick up is unmatched in the field of technology as well as cryptocurrency.
Top Five Most Expensive NFTs of 2022
NFTs have recently skyrocketed in popularity and price. These are digital assets stored on a blockchain as well as could be a video or picture, an audio file, or an electronic paint. NFT sales nowadays tend to hit the headlines offered the high numbers connected with their sales.
Here is a listing of the top five most expensive NFT. In addition to the 5 NFTs below, several others have gathered high valuations from customers. For example, artist Beeple's Crossroad brought $6.6 million on Nifty, while Twitter founder Jack Dorsey's first-ever tweet "simply setting up my twtrr" was priced at $2.9 million. Just recently, the most expensive NFT, sold for $24 million, here is our recent list of the top five most expensive NFTs.
Number 1 Most Valuable NFT of all time – "the Merge" by Pak – ~$91 Million in ETH
According to Barron's "Merge" officially became amongst the most valuable NFT of all time ever sold on December 2, 2021, when it cost $91.8 million. A total amount of practically 30,000 individuals joined in together to buy this NFT. It is unique because the artwork is distributed as a fraction to all the owners. No one person owns it and no one person can sell it. Although this is the commonly listed as the most valuable NFT of all time, it has 30,000 owners, so it is open to debate whether it is 1 NFT with 30,000 owners, or 30,000 NFTs because of the fractional ownership.
2 – Everydays: The First 5000 Days by Beeple – $69 Million USD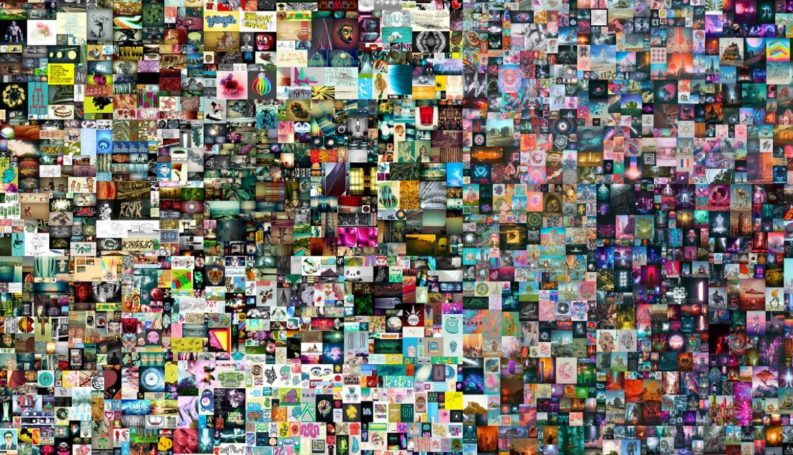 Beeple is argueably the most famous digital artist for NFTs. We see his pieces in the top five most expensive NFT consistently and there's no sign of his art slipping down the ranks. Everydays is a collection of 5000 individual pieces of digital art all in one collection. In 2007 Beeple vowed to make 1 piece of electronic art every day as well as Everydays is a collection of the first 5000 days. "Everydays: The First 5000 Days" cost $69.3 million as well as is amongst the costliest NFT ever marketed to a solitary purchaser.
3 – Human being ONE by Beeple – $29 Million USD
Beeple's HUMAN ONE was sold for $28.98 million. This is a unique piece because it is not solely an NFT, it is a hybrid piece. The owner of the piece, Ryan Zurrer, a Swiss Venture Capitalist. Beeple is amongst the most widely known, as well as recognized electronic musicians in the room. Beeple has been regularly producing a minimum of one item of digital art every single day.
Clock by Pak — $52.7m (16,593.05878 ETH)
'Clock' is a piece created by Pak and Julian Assange, and almost acts literally as a clock, counting the days that WikiLeaks founder Assange has been imprisoned. It was created to bring attention to the imprisionment of Julian Assange, a whitstleblower for a massive government surveillance project. The NFT was auctioned off to the highest bidder, AssangeDAO, on the NFT marketplace – Censored.art. The press release for the 16,593.05878 ETH sale.
The piece was ultimately purchased by AssangeDAO. This DAO wasa collection of over 10,000 people pooling their money to purchase the NFT and support Assange.
4 – Cryptopunks #5822 by LarvaLabs – ~$24 Million in ETH
On Saturday, CryptoPunk #5822 sold for 8,000 ETH, or about $23.7 million worth at the time of sale. Deepak Thapliyal purchased the NFT directly from CryptoPunks developer, Larva Labs. Deepak is the CEO of Chain, a cloud blockchain infrastructure firm.
5 – CryptoPunk #7523 by LarvaLabs – $11.75 Million USD
There are 10,000 unique CryptoPunks, or 6,039 males as well as 3,840 females, every one of which is made electronically limited with the use of blockchain technology. Everyone was algorithmically generated through computer system code, as well as therefore, no two personalities are specifically alike. A lot of the 10,000 total punks are humans, yet there are likewise 3 special types: Zombies 88, Apes 24, as well as Aliens 9. Besides personality type, there was a possibility of 87 extra features.
#3100 CryptoPunk by LarvaLabs
CryptoPunks is an NFT collection on the blockchain of Ethereum. The job was released in 2017 June by the Larva Labs workshop, a two-person team consisting of Canadian software designers Matt Hall as well as John Watkinson. Certain characteristics, as well as sorts of characters, are rarer than others.
#3100 CryptoPunk is Unusual with a blue as well as a white headband that cost $7.67 million.
Valuing NFTs
A unique reality concerning NFTs is that their worth may reduce or enhance depending on how people regard their worth or with the value of Ethereum. NFTs are presented in the conversation forums for five years due to the plenty of possibilities they possess in the digital, as well as the hybrid globe.Our article – What is Ethereum can help one understand why Ethereum is the most popular cryptocurrency and blockchain for NFTs. It's simple why NFTs are gaining value:
The worth of an NFT on the blockchain can be recognized as a feature based on variables like Ownership Worth, Future Scope, Usability, and Tangibility.
Use: It reveals how diversely and openly proprietors are able to utilize an NFT. Video game assets, as well as tickets, are some groups that have high utility due to the fact that they can be utilized as a pass to Unlock a certain feature of some video game or could be utilized to attend an online event. The utility of an NFT can be enhanced by making it offered on systems run by other businesses by collaborating with them, this offers the owner extra alternatives where they can utilize their NFT.
Ownership Worth: The worth of an NFT depends highly on the reality that who was the previous owner. NFTs with substantial ownership values may be released by well-known companies or musicians. If a certain NFT is owned or endorsed by a celeb, the fact itself raises its originality, therefore, making it better for interested collection agencies.
The easiest means to boost possession value is to either co-ordinate with a business that has a high brand value on the market or with high-trust NFT communities. There are several examples available, such as the first official NFT was traded for around $113,124 due to the fact that it represented a vehicle of F1.
Future Extent: NFTs are based upon Ethereum rates and their value is a reflection of how uncommon individuals assume it be. Heavy investments may suddenly trigger the worth of NFTs to swell up.
Tangibility: Not all NFTs matter just in the digital globe, some could be utilized to some extent in the Real World also. Like in cases where possession of an NFT comes with the right of ownership to the design or a physical object. This does not increase the originality of the electronic asset yet the refined message is that it does include a sense of boosted practicality.