Article first published: January 19, 2019
Article updated: May 25, 2022
I've been using the Brave browser since it started the Brave Ads rewards program, and kept getting ads for something called Lolli. The inconspicuous ads mentioned that I could get free Bitcoin with all my only purchases. I found this too good to be true, but signed up after reading into a bit more.
In this review of Lolli; we'll cover how easy it is to earn free Bitcoin on everyday online purchases:
Lolli Review 2022
What is Lolli?
Lolli is a chrome extension that notifies the user if they can receive Bitcoin when making a purchase through an approved vendor. This rewards you with real Bitcoin when you make purchases on approved site. With over 500 sites approved, it's hard to find a site that doesn't earn free bitcoin back. Sadly Amazon does not work with Lolli, but maybe someday!
Earn Bitcoin cash back on online purchases!
Lolli's name comes from the free lollipops that you would get as a kid from the doctor. Now that you're an adult you can earn Free Bitcoin while shopping online!
How Does Lolli Work?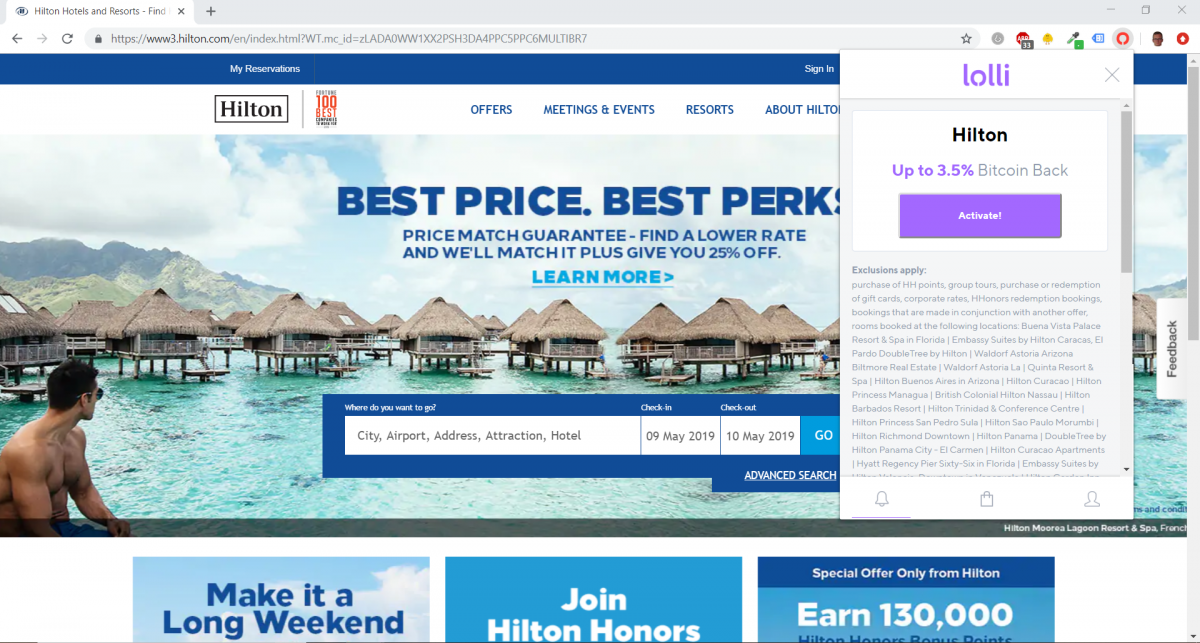 Lolli is essentially an advertising service that earns money by partnering with retailers in combination for paying customers cash back with Bitcoin. If you want free Bitcoin, and you buy things online, then this is the best bitcoin rewards program for you. For advertising their website on their list of shops, they pay when someone makes a purchase, which is more efficient than buying ads which people click and never purchase. They basically guarantee a sale because of the incentive of Free Bitcoin. This is just one of many ways to get started "stacking satoshis", or obtaining bitcoin, without directly investing! Getting free bitcoin is a risk-free investment.
Earn Free Bitcoin with Every Purchase through Lolli
Lolli pays anywhere from 1%-27% "cash-back" free Bitcoin with an approved purchase. By approved purchase, I mean through the approved site, but also different items on different sites pay different amounts of Bitcoin back.
Shop and Earn Bitcoin Cash Back at over 1000 partner stores online.
Find everything you need from men's, children's and women's clothing, accessories and shoes to home décor, electronics, toys and more. They are always adding new retailers and offers all the time. This cashback earn free bitcoin is acceptable at so many sites, including some of the ones below
Using Lolli is Easy and Fun!
Once your account is setup, simply download the extension and it will run in the background.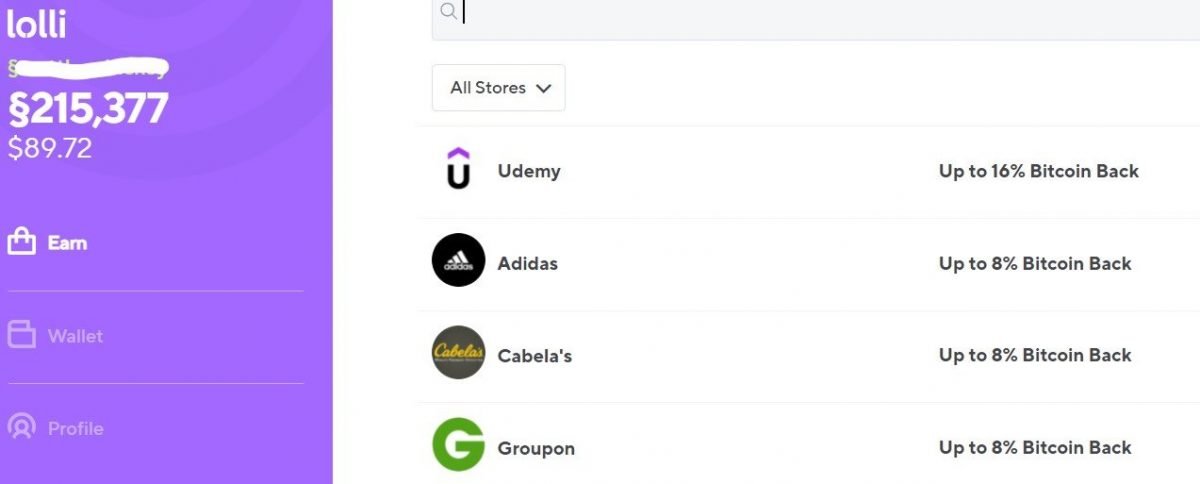 A notification will appear when Lolli is partnered with the website
Activate the Lolli rewards by opening the extension
Once activation is confirmed, check-out using the vendor's regular check-out.
Once the purchase is made, Lolli will email you notifications stating how much free bitcoin will be sent to the Lolli wallet.
Don't return the item and wait 30-90 days for the Bitcoin to be available in the Lolli wallet.
Once the $15 Bitcoin threshold is hit you can withdraw to a Bitcoin wallet, or request that it be deposited as a USD equivalent to a bank address.
Free Bitcoin with Every Purchase, No Catch!
Lolli Review Summary:
This is an easy way to earn Bitcoin without signing up for exchanges, buying funds or getting special credit cards. Simply click the icon when shopping and earn Bitcoin today! There's no direct upfront investment. Simply sign-up and continue buying at your favorite retailers to get free Bitcoin.
Lolli is an Easy Way to Get Free Bitcoin
Features -

9.5/10

Ease of Use -

9/10

Reliability -

7.5/10
Lolli is an Easy Way to Get Free Bitcoin
Features 9.5/10
Lolli rewards free Bitcoin on thousands of websites.
Ease of Use 9/10
Once the chrome extension is installed, it's easy to use. Simply click the lolli button and activate. Then you're ready to start earning.
Reliability 7.5/10
This isn't more of a reliability, because they will pay. Lolli is great, but they take anywhere from 30-90 days to credit the Bitcoin to the Lolli wallet, then it takes a minimum balance of $15 USD to cash out to your Bitcoin wallet or bank account. Depending on how much online shopping you do, this could be quick, or take forever!
Cons
Cons
Minimum cash out is $15, depending on how much you shop online, this could take a while to get depending on where you shop.
Typical bitcoin earned is approximately 3% of the total purchase. For a $20 shirt, that's only $0.60 in BTC
Bitcoin is credited 90 days after the purchase is completed! it's a new way to HODL