How To: Earn Passive Income with Bitfinex Margin Funding
Bitfinex is one of our favorite exchanges. Its advanced cryptocurrencies trading features create an enticing platform. It offers advanced order types, margin trading, margin funding and other cool things. Margin funding is a liquidity feature, which goes hand in hand with the margin trading and comes in play when we are talking about passive income.
Bitfinex allows you to provide liquidity in the form of bitcoins and/or dollars to traders, who want to trade on margin. Essentially Bitfinex allows you to lend your money to traders and earn daily interest. Although the rate varies, around ~0.05%, the profit is compounded daily and requires a low deposit to start earning today.
We will walk you through how to enable passive income on Bitfinex with margin funding and explain what risks are involved.
Registering with Bitfinex
If you already have a Bitfinex account, go down to "Setting Up Bitfinex Passive Income Margin Funding (Lending)."
If you need to get a Bitfinex account, they offer a 10% discount on your trading fees for the first 30 days. 
Although these steps are optional, we recommend them (to follow our tutorial easier) open your account settings. Once registered, log in and change these settings:
Default currency for fees – Choose "Dollar", because it is easier to track fees in fiat currency which is not so volatile like bitcoin and we are all used to it (well, at least for me).
Account Type. Choose "Trader" as this type grants you access to all Bitfinex features: exchange, margin trading and margin funding. While setting up our passive income, we will use exchange and margin funding features.
So now make sure that you are logged in and let's proceed with passive income configuration!
Setting Up Bitfinex Passive Income Margin Funding (Lending)
 Deposit BTC to your Bitfinex account

As a no-brainer, please deposit some money to your account. You can click here to go to the deposit screen. We prefer depositing bitcoin, as it allows free and quick transfer compared to any of the USD deposit options. The minimum for margin lending is 50$ (in bitcoin), so we put

transferred $53 to cover any price changes that may occur (it has happened). Send the bitcoin to the exchange address listed on your screen, wait for the required 3 confirmations, then the money will be on Bitfinex.

Transfer BTC to Exchange Wallet

Bitfinex margin funding requires $50 minimum for lending USD, while it requires 1 BTC for BTC lending. USD margin lending rates tend to be higher than other currencies, but it varies. You can always check current rates in Margin Funding page. To exchange bitcoins to USD, your deposited bitcoin needs to be placed in your exchange wallet. You can do this from the wallets page.

Exchange BTC to USD for Margin Lending

Once your bitcoin has been moved to your Exchange wallet it is time to exchange them to Dollars. Go to the main page, enter a valid USD price, then enter the amount of bitcoin to sell. Once again, minimum of $50 for USD margin funding. Using the market price guarantees your trafe will be made quicker, so don't push too hard to sell for more than the market is buying for.

Transfer USD to Deposit Account

Now that you have traded your bitcoin for USD. You must transfer the USD to your Deposit account. Simply go to "Wallets" then select the account your funds and move at least $50 to your deposit wallet.

Setup Margin Funding

Go to the main screen and click "margin funding". Review the bid and ask rates, then decide upon your loan's price. Set the numbers and click activate. It can take anywhere from seconds to days for your offer to be accepted, so carefully review the rates. We've found the closer to market rate, the quicker the loan will be accepted.
We review the options in depth, including the rate and term in "options for margin funding" below.

Enable margin funding "auto-renew" feature

Once your lending has been approved you may check out the autorenew options. We typically recommend a 2-5 day term, but it depends on your goal. If you notice a great loan for 30 days, get that rate. We like compounding our interest rapidly, so we chose a shorter term. Click autorenew, and check notification, that way emails will be sent every time an order is made.
[su_button url="ttps://www.bitfinex.com/?refcode=Rd5YPKH8U8″ target="blank" style="3d" wide="yes" center="yes" icon="icon: money" desc="Signup for Bitfinex to trade, margin trade, and lend your Bitcoins."]Setup your Bitfinex Trading Account TODAY![/su_button]
Securing Profit with Quality Interest Rates
The good part about Bitfinex margin funding is that you can't lose. We have been lending on Bitfinex for several months and have learned that we can offer a higher than average rate. If the majority of the lenders would move towards higher loan rates, it would benefit the loaners. This depends on the market though, as currently the price of bitcoin is rallying. Methodical trial and error is key to successful trading and loaning.
Although we typically lend at the flash return rate (FRR), it is possible to lend at a higher rate. We use it as a common strategy because it requires minimal effort to maintain a return. However, there are some disadvantages.
Depending on market conditions, flash return rate can be lower than market rate, or higher; depending on the economic status. The main problem that utilizing the FRR is the large volume of trades at it. If one lends above/below the FRR, it may take significantly longer to have the loan get picked up.
One way to mitigate the risk of movements in the FRR is to utilize an autorenew loan at the FRR and a percentage at a set price with a different term. This way one can maintain a guaranteed return at the FRR, while attempting to score a better rate on a longer term loan. It is important to utilize Bitfinex's email notifications to get a read-out on when the loan matures, so that a new offer can be issued.
Once again, it is key to get the feet wet by trying a couple weeks of FRR loans. After some time, it may be better to notice trends and how the system works in order to adjust your method to better suit your needs.
Risks Associated With Bitfinex Margin Lending
Lending to Strangers
Lending money to strangers involves risk. With Bitfinex margin lending, many would label this "Double Blind Lending" since borrower and lender don't know each other. We find this comfortable, but some might consider it unsettling.
Another risk to consider is when a trader borrows money and takes a position, they assume the risk in case that the price will move in an unfavorable direction. If the market moves so far against the trader that the trader is close to not being able to cover the loss with what is available in his trading wallet, then the trader will be issued a margin call and his position will be forcibly closed. But if the market moves so fast, that the forced execution of his position ends up giving the trader a negative balance, then the person lending the funds out to the trader can lose both – the generated interest and part of the principal.
Loan Defaults
It is extremely rare that lenders lose money due to margin calls in a fast-moving market, but it can happen and it is something worth considering. There is no magic here: you can't expect to be able to lend out at high rates without there being any risk involved. Generally speaking, a trader would typically has their interests at heart to pay the loan back, especially when considering the risk of paying more than they promised to pay.
Bitfinex Going Defunct or any other Indemnity
This is probably the most likely and the least likely. This may happen for a variety of reasons, some include: Bitfinex prevents trades from completing, withdrawing funds, a hack closing/deactivating features, deactivating user accounts for any reason, etc. This concern is nothing new in bitcoin investments as many platforms have closed certain features, and gone defunct for legal reasons.
Conclusion: Bitfinex Enables Passive Income
Bitfinex is tremendously powerful platform. Passive income through margin funding is meant to be used in combination with other investment strategies. As always we recommend diversifying investments with a variety of strategies. Our margin funding has averaging 0.03% to 0.1% a day. We calculated that this could earn us 2-10% a year, but reduces the effects of bitcoin's volatility.
Higher than average returns typically coincides with higher risk. However, utilizing Bitfinex's margin funding can mitigate risk, while maintaining a reward. We recommend investing safely by slowly increasing investments through multiple small deposits. Oh and please don't forget the golden rule: Only invest what you can afford to lose! It's a bit of a cliche, since no one wants to lose money, but its mainly a precaution it is important not to entrust anything bitcoin with more than what can be lost, as tomorrow isn't guaranteed! Bitfinex margin lending is a great way to earn passive income in addition to any other bitcoin investment strategies.
Let us know if you're having trouble, or how your returns are in the comments section. Thanks for reading, and subscribe for more bitcoin news, reviews, and bitcoin investment strategies.
[su_button url="ttps://www.bitfinex.com/?refcode=Rd5YPKH8U8″ target="blank" style="3d" wide="yes" center="yes" icon="icon: money" desc="Signup for Bitfinex to trade, margin trade, and lend your Bitcoins."]Setup your Bitfinex Trading Account TODAY![/su_button]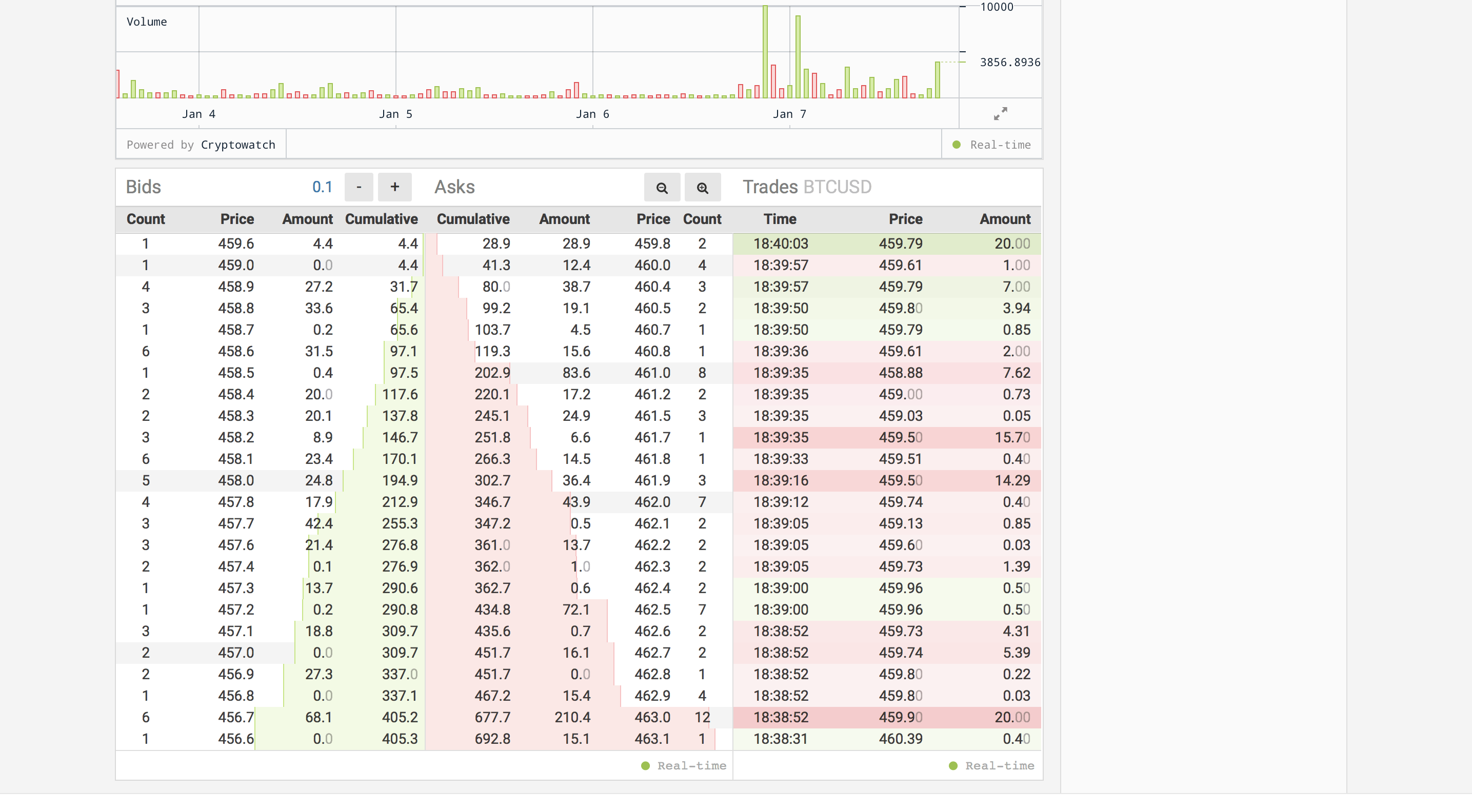 This shows the active order book of Bitcoin. This is where the bids and asks are listed showing the amount buyers and sellers are currently willing to pay.