How to Buy NEM Summary
Here's how to buy NEM:
Get an NEM compatible wallet (NEM Wallet, Trezor) 
Exchange Bitcoin for NEM Withdraw your coins to your wallet
Step 1 – Get an NEM Wallet
We recommend the official Nano wallet (Desktop client) from the NEM website.
Once the file has downloaded, unzip it and run the wallet.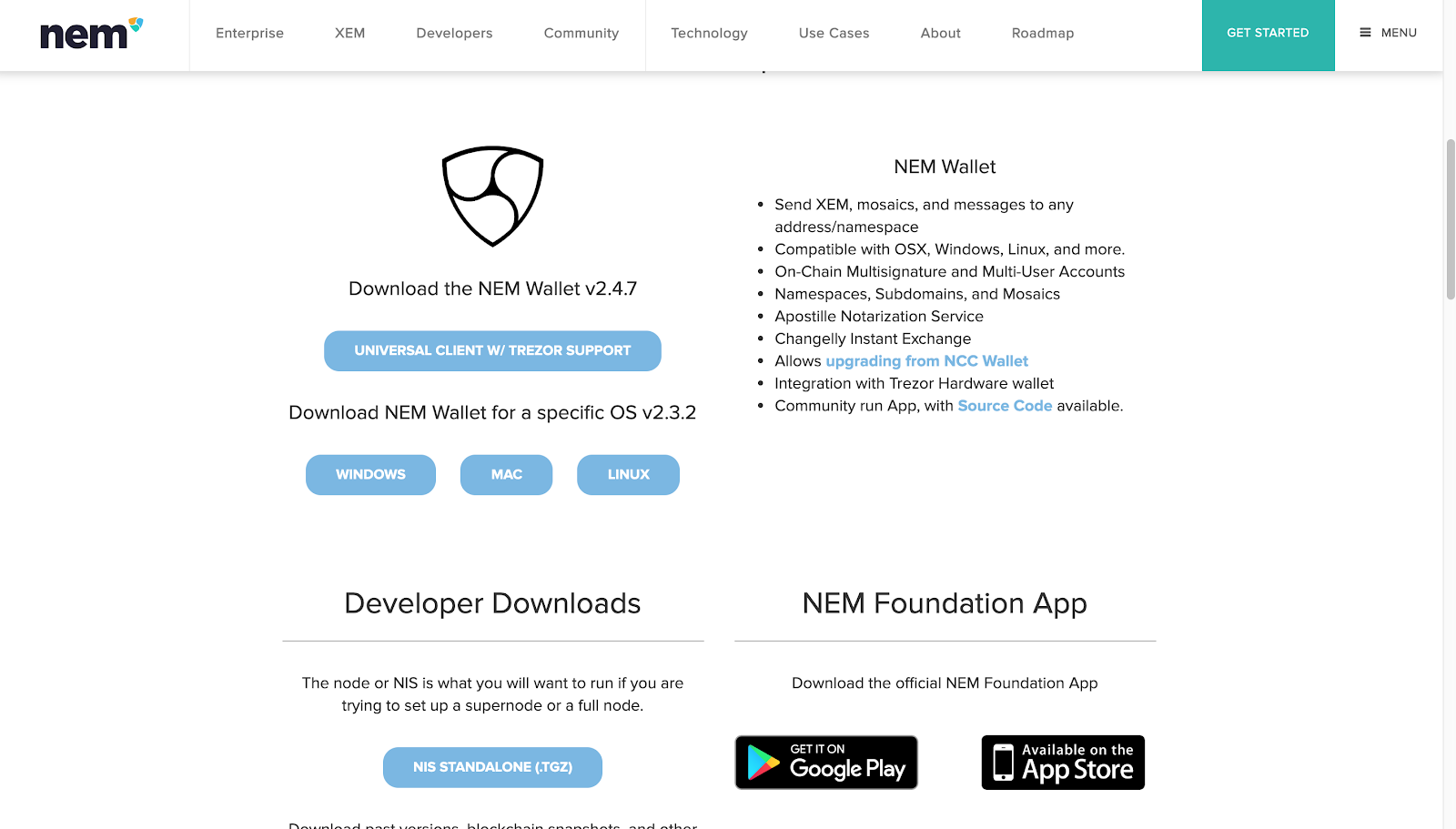 Once the wallet is running, press 'Sign up' in the top right corner. Press 'Simple wallet'.
Then press 'Ready'. Make sure the 'Mainnet' network is selected then press 'Next'.
Then name your wallet. Enter a custom name such as Nem Wallet, then press Next.
Enter a secure password and press Next.
You'll now be asked to create a private key to your wallet. Press 'Start'. Press 'download wallet'. Save the file to your desktop.
Now, go find that file and back it up somewhere such as an external hard, cloud drive or USB. This file can be used to restore your wallet if your computer is lost/stolen/fails. Note: if you lose this file you can lose access to your coins.
Once you've saved it, press 'I have my wallet file'.
Press 'show private key. This can open your wallet from any computer. Be sure to secure this. Once you've done so, press 'I have my private key and password'.
You will now be at the login screen. In the Select wallet drop down box, select Mainnet > the name of your wallet. Enter your password. Press 'sign in'.
Now you're at the dashboard of your wallet. Press 'Account'.
You will see your wallet address, which looks like a string of numbers and letters. Press the clipboard icon beside it to copy it into your computer memory. Save it somewhere for later reference.
That's it! Now you have a wallet with an address to accept your future NEM coins

You can also Use a TREZOR wallet too for NEM coin. 

Step 2 – Use an Exchange to purchase NEM (Binance, Bitfinex)
Buy NEM Through Bitfinex
Bitfinex allows you to purchase NEM with the following: BTC, USD, EUR GBP, JPY and ETH. Bitfinex is no longer accepting US users. If you are in a region eligible to use Bitfinex this option will probably be the cheapest. You'll be required to finish a complete identity verification process and wait for bank transfer to arrive at Bitfinex. Here's a guide on Bitfinex.
Buy NEM Through Binance
Binance is an amazing exchange as it allows you to trade between seemingly unlimited amounts of cryptocurrency pairings. This means that rather than straight buying NEM, you'll either need to buy Bitcoin on Binance or deposit Bitcoins from somewhere else then trade them for NEM. This is a very simple process. Binance also allows users to buy certain cryptos with a credit card, making this exchange a versatile solution.
United States based users have access to the newer BinanceUS platform.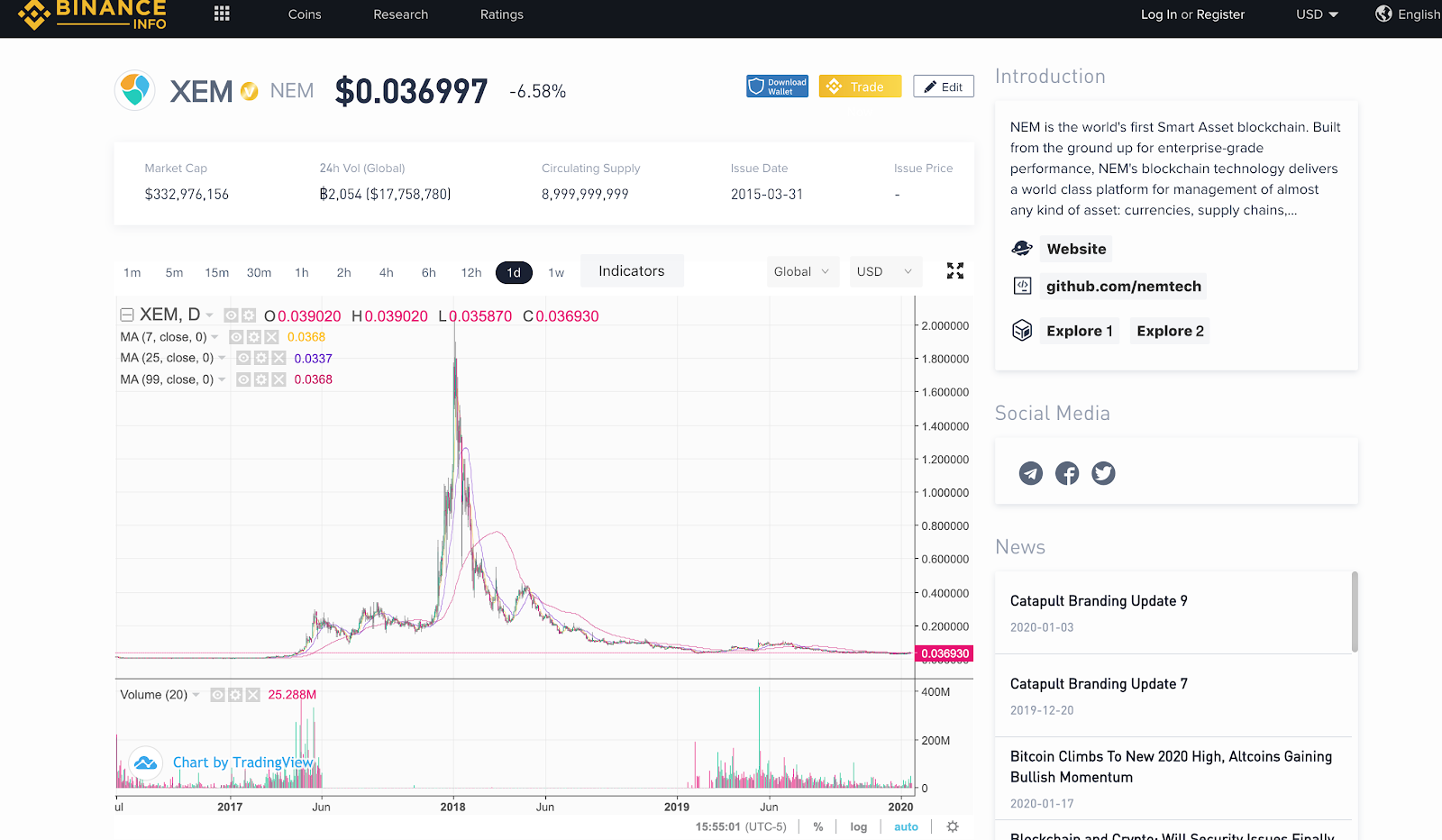 Buy NEM Through KUCoin
Kucoin has over 340 trading pairs available. An example of a trading pair is BTC/ETH, which means to trade Bitcoin with Ethereum. They support more than 75 individual cryptocurrencies and they are adding to this list all the time. KUCoin accepts credit card making it very easy to obtain cryptocoin through. If you don't see the cryptocoin you want on the exchange simply buy another popular crypto such as Bitcoin or Etherum, transfer it to another exchange and convert it into your desired cryptcoin such as NEM.

Step 3 – Withdraw your NEM
After buying your NEM you will then want to move them from the exchange into the wallet you've chosen.This ensures the coins are under your control and not subject to loss due to a third party. Login to the exchange you've bought the coin through. Locate the wallet address from the first step and transfer the NEM from the exchange into that address.