With Tons of Features, FreeBitco.In Makes Claiming Free Bitcoin Easy and Fun
With Bitcoin maintaining $10k + pricing, Bitcoin faucets will become a dying breed. After using a couple different faucets, we've found one sure to delight. Introducing FreeBitco.in, an hourly paying Bitcoin faucet, dice game, and lottery site.
Unlike every other Bitcoin faucet, we've reviewed, there are no ads. This makes claiming free bitcoin inconspicuous at work. If there's anything annoying about bitcoin faucets, it's the obtrusive and loud ads. FreeBitco.in has no ads whatsoever. There are several sections of the sites:
Simple Sign up
FreeBitco.in has a simple, no-frills, sign-up. All that's required is an email address and password. No username, no name, no country, nothing like that. It's ideal to have a bitcoin wallet too, as you'll need an address to payout to.
Free Roll
This is the faucet portion of FreeBitco.in. Each free roll grants the user, reward points, lottery tickets and free Bitcoin. You can claim once an hour. Simply complete the captcha, tap roll and your number will come up. This corresponds to your reward, and your account will be credited. The amount of Bitcoin varies based on the number rolled. Almost every time, you'll recieve the minimum prize of $0.002 in Bitcoin. The USD amount is fixed, but because Bitcoin's price fluctuates so does the prize (in Bitcoin), but it's always based on the numbers below.
Claims range from $0.02 to $200 in Bitcoin, every hour
Prizes range based on the number you get, and the odds vary based on the amount to win. At time of writing, claims were ranging from 18 to 1,836,804 Satoshi or (0.01836804 BTC). Although the amount may seem low, there's more to
FreeBitco.in
.
Earn Bitcoin
It really isn't
earn Bitcoin
, as much as it is, the "Bitcoin Savings Bank". Essentially,
FreeBitco.in
pays interest on accounts with more than 30,000 satoshi. The current interest rate is compounded daily at 0.0109589%, which adds up to 4.08% a year. They say they use the money to help users cash out and to fund their mining operations.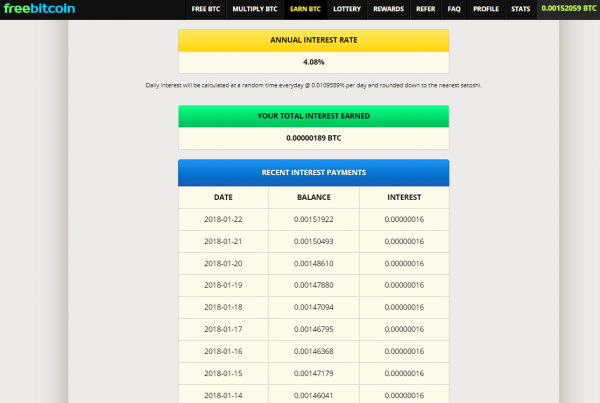 Browser Mining
Browser mining is completely voluntary, and asks for permission.
Browser mining is especially useful for maximizing computers or even phones you don't use all the time. The nice thing about browser mining with FreeBitco.in is you can set the amount of CPU usage, this allows you to test how much you can get depending on what you're using the computer for.
On our T530 test notebook with a dual-core i7 3520M, we got a useful 27 H/s. A Pixel 2 smartphone tested got a promising 22 H/s. You can run the browser mining on as many devices as you want. This way you can mine on your phone while it charges at work, or at home, and add in a couple of computers. This way, some money is always being generated.
FreeBitco.in browser mining isn't the most efficient way to mine cryptocurrency, but it is effective. FreeBitco.in credits your account with the satoshis earned, while they're earned. You can even generate a link that can be logged on to other computers for when you don't want to log on to the website. This can be used at a desktop in your house, while you're logged in on your phone.
Reward Points and Lottery
Although the lottery prizes can get pretty high, always more than 0.75 Bitcoin ($8,600+ USD), the chances of winning are astronomically low too! With 300-500 million tickets being sold/given away with each drawing, it's typically not worth it to invest your free satoshi here. It's a personal choice though.
Reward points can be spent on a variety of things. You can request a prize like a ledger wallet or a trezor, and even an iphone X. The best bet is to use the reward points to increase your Bitcoin free roll claims up to 1000%! This only costs 3200 reward points.
Tips for Maximizing FreeBitco.in Bitcoin
Turn off lottery tickets under profile and select reward points only. Face it, you'll never win the lottery.
Use reward points to increase Bitcoin claim bonuses.
Don't play the dice game, it's a waste. Unless you can count cards or whatever.
FreeBitco.In is Worth a Sign-Up
Some people hate faucets, but the fact of the matter is, Bitcoin is here to stay. Bitcoin may rise, it may plummet. But faucets are a great way to get some Bitcoin, and discover the magic. Without ads, it's not weird claiming from a Bitcoin faucet at work. It's easy to run the browser mining, and it's simple, yet addictive to tap that free roll button and cross your fingers for the $200 prize.
[su_button url="https://freebitco.in/?r=11540400″ target="blank" wide="yes" center="yes" icon="icon: money" desc="Visit FreeBitco.in to start earning now! (Opens in new tab)"]Click to visit FreeBitco.in now![/su_button]
A Feature Packed Faucet
Features -

10/10

Ease of Use -

8.5/10

Reliability -

8.5/10
Freebitco.in Review: More than a faucet!
Features 10/10
More than just a Bitcoin faucet. A lottery and dice game site, and voluntary browser mining!
Ease of Use 9/10
The interface may be confusing with all the options. But once you get the hang of it's awesome ad-free interface, it's easy money.
Reliability 10/10
FreeBitco.in has been around a couple years, and has always received positive reviews from customers. unfortunately, not much is known about the operators.