Quest for Crypto Arbitrage Continues
One of the ultimate goals would be identifying a lucrative arbitrage opportunity. That is to be able to buy somewhere at a lower price while simultaneously reselling at a higher price elsewhere. An easy to understand concept. Arbitrage is potentially incredibly lucrative if done correctly. In theory being able to identify and act on a price discrepancy in crypto coin spot pricing on one source and exchanging elsewhere for a larger amount is a great move. The exact definition of arbitrage "simultaneous buying and selling of securities, currency, or commodities in different markets or in derivative forms in order to take advantage of differing prices for the same asset." In this case the simultaneous buying and selling would be of a crypto coin.
Purse.IO Savings up to 33% off Amazon using Bitcoin
Enter Purse.io; an intermediary that connects buyers and sellers of items on Amazon allowing settlement in Bitcoin with the benefit of discounted item prices. Purse.io is an intermediary service for those that would like to purchase items on Amazon using bitcoin, which the retailer doesn't accept. The premise of the method is simple, you buy an item on Amazon at a discounted price and sell it for a premium elsewhere (eBay, Craigslist, Amazon, local store)
It allows participants the ability to acquire Bitcoin using credit. Purse gives users the ability to buy items at a discount by paying with Bitcoin. This happens when one places an order to buy something on Amazon. It matches this order with someone else who buys this item with Amazon credits they have, then you pay for this in bitcoins.
Purse.io is functioning as a go-between connecting buyers and sellers of bitcoin and Amazon products. On this platform the Bitcoin seller has the ability to bid for items on Amazon at a heavy discount payable in Bitcoin. Similar to a peer-to-peer (P2P) marketplace, where Purse.io acts as an intermediary, offering users the platform, bitcoin wallet and escrow for transactions.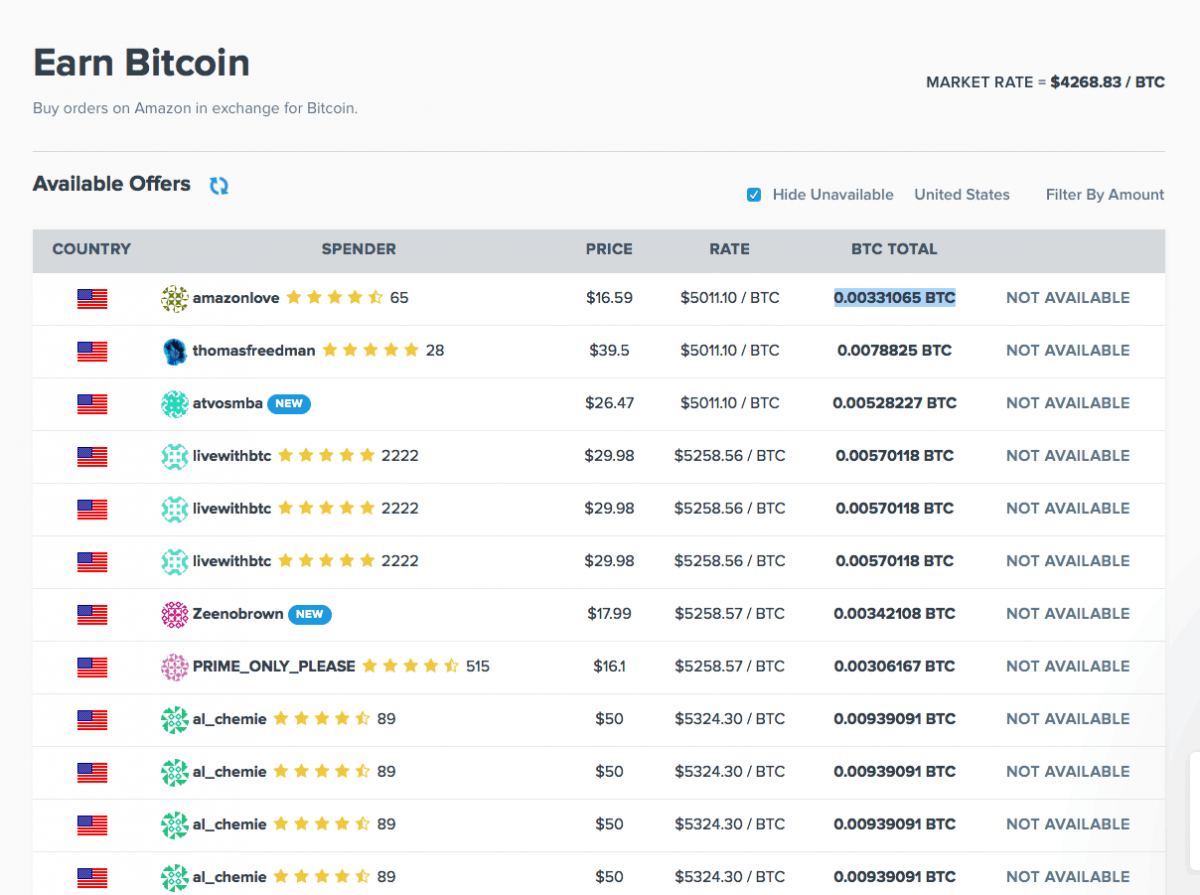 Fundamentals of Purse.io
Buyers of Amazon products are able purchase their products using Bitcoin instead of fiat currency while naming a percentage discount of the item. To break down the different parties using Purse you have the Bitcoin buyers and the Bitcoin sellers. One side of user are those willing to buy goods through Amazon with Bitcoin for a discount.
with Purse you can buy bitcoin through any payment option that Amazon accepts. This includes Amazon gift cards, rewards credit cards, Amex Membership Rewards, Chase Sapphire points, Amazon credit cards, and credit cards. Purse provides you ultimate flexibility in liquidating unused Amazon gift card balance, and allowing you to purchase bitcoin using various different forms of payment.
Buyers and Sellers Connected
Theoretically the capabilities this service provides allows benefits of the users on different sides of a purchase on Amazon, providing each party useful abilities
Buyer: Buys discounted product with Bitcoin
Seller:  Trades credit in exchange for Bitcoins at a markup to facilitate product sales that exchange into Bitcoin

The capabilities boasted by Purse.IO have tremendous potential to be harnessed. You can set a heavy discount to purchase items with Bitcoins on one side. On the other side of the transaction, the seller of goods, can receive payment in Bitcoin for a price. Purse aims to facilitate buy and sells of Amazon with Bitcoin by providing a service as a form of transactional intermediary.
The Play
The full opportunity for the arbitrage comes in force as follows.
Obtain Bitcoin at spot pricing.
Use Amazon to find and obtain item(s). (This is where your imagination comes in. You ideally need something easy to ship, popular, and in steady supply.)
Set a discount and obtain the item then settle payment with your bitcoin.
Obtain possession then relist the discounted item back onto a marketplace such as eBay, Amazon, local store, or elsewhere.
Buy low, sell high, spread between the acquisition the sell less any transaction fees are profit.
An even more detailed guide is provided here.
Obstacles
For the arbitrage to work successfully you'd have to be able to obtain an item for a large discount then resell it elsewhere with selling fees not taking all of the profits. There is uncertainty. The people who want to cash their Gift Cards in have to be willing to do so at less than face value. There is no guarantee if you set an item to a maximum discount there will be someone else on the other end of the deal willing to accept the terms. However, somewhere there may be a counterparty willing to take that trade. Acquiring products may take longer time than outright buying on Amazon with cash.
The Good, The Bad, and the Ugly
Outlined is a neat idea in theory. With the Good, The bad, comes The Ugly
Detailed on Reddit.com is a Purse user who encountered legal difficulties to say the least. The long and short of it was the end goos received cause legal difficulties for the user. Reddit users have posted numerous discussions amongst themselves regarding this service. As with anything do your own full due diligence to ensure you're in compliance with the law.
It sounds great in theory, yet this is simply an academic exercise and we have not used this service. There are already plenty of existing resources with guides, tutorials, and more detail on the Purse.io platform. You know what they say about something that sounds too good to be true. As with anything your mileage may vary. We've provided this for entertainment value only.
That being said, Purse has been around for a few years, they're working with Amazon. But the bottom line is while responsibility to ensure the transactions are above board lie with all parties involved you may get more than you bargained for if you're unlucky. Bitcoin and the cryptocurrency markets are still relatively new and compliance law is struggling to keep up.
The takeaway is be on the look out for arbitrage. Chances are there may be a flaw behind a potential arb. (such as a transaction fee wiping profits) However there may be the next great trade around the corner waiting for the right owner to claim it.