Binance Review
Binance is a Chinese cryptocurrency exchange. Binance was created after attracting funds via an ICO (Initial Coin Offering – creating a new digital asset, backed by the project. Changpeng Zhao, former CTO at OKCoin is currently at the helm of Binance. They are known for fast processing speeds coupled with an ability to process enormous numbers of transactions (1.4 million) each second. It's been quickly gaining ground in market share cementing a place as a top 20 exchange in terms of volume.
Binance transaction has reached a new level and currently score tenth place in the world. Binance offers a generous daily withdrawal limit. They don't need identity confirmation when the per day remittance is within limit of 2 BTC.
Binance Features
Binance's trading platform is web-based. Furthermore it offers two distinct trading layouts, a more simple one and a "Pro" version.
Their ICO has created tokens named BNB that are traded on the exchange. They can also be used as a method of paying your trading fees, which will reduce them by 50%. Binance offers their own startup incubator platform as well. The trading functionality of the platform was of more interest so we focused on that for the purposes of this Binance review.
Below is the "standard platform" look:
Below is the advanced display:
BINANCE Advantages
Large Cryptocurrency Pairings Supported
The competitive advantage of Binance's platform is the ability to trade every major cryptocurrency pairing in existence. Coinbase and Gemini only offer trading of a handful of the larger market capitalization cryptos, whereas Binance allows users access to trade over 100 crypto coins.
Low Fees AND LIMITS
The fee structure is simple as well as being priced. There is a flat 0.10% fee on all trading.  The 0.10% fee on trades is one basis point. If you were to buy a cryptocoin at 100 you'd have to sell it higher for 101 to profit.
Ease of Setup  
Setting up an account is straight forward, similar to signing up for an account with other service providers. Another advantage is there is no lengthy waiting time, users are able to get setup and running within minutes. This is due to the fact that fiat is not accepted on the exchange.
Binance Provides Significant Trading Volume
Binance is currently the third largest exchange by cryptocurrency trading volume, according to coinmarketcap. At the time of writing, Binance's volume was an astounding $5,441,711,452 in the last 24 hours! This volume demonstrates their users clear trust in the exchange, as well as the accessibility of the exchange and ease of transacting. This type of volume requires substantial servers and computational power.
Wide Support of Cryptocurrencies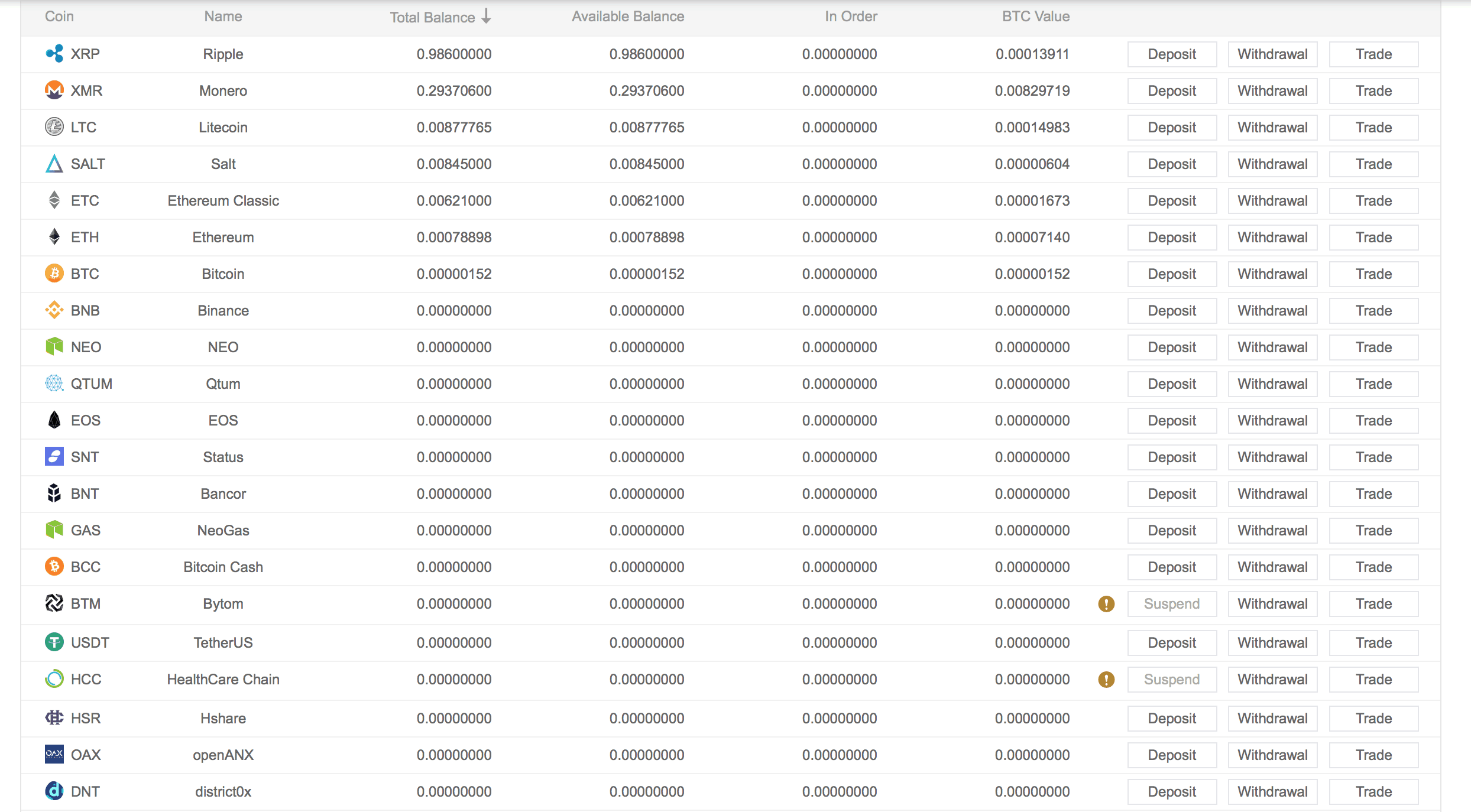 No Verification Requirements
Binance doesn't require identity confirmation in instances when the per day remittance is within the limit of 2 BTC. The attractiveness of setting up an account with Binance may be greater for a user in a jurisdiction where certain exchanges choose not to allow new users because of restrictions imposed by that location's governing regulatory bodies.
Ease of Use
You're able to buy and sell crypto pairings with market or limit orders while specifying the amount or percentage you wish to trade for each transaction.
BINANCE Disadvantages
No Leveraged Margin Trading 
Margin trading is not available at Binance. Margin trading  is a system which allows you to trade with more money than you actually have in your account. Your balance is then used as a guarantee to maintain your position open.
No Fiat Functionality
This has both advantages and disadvantages. Government fiat deposits are not currently enabled in Binance, instead this exchange focuses only on the digital side of things. Clients can deposit and withdraw the coins supported at the exchange. This means that you're not able to deposit or withdraw in fiat currency, only cryptocurrency is supported.
Relatively New
Binance was started in only July 2017, according to this Reddit post. This is a major concern, as they don't have a history. Despite all the good things people are saying on Reddit. it's worth mentioning as many exchanges have come and gone. Binance appears to have a visible co-founder, unlike BTC-E.
Conclusion
Accessible option for obtaining Different Cryptocoins
Binance is the most rapidly-growing and communally praised cryptocurrency exchange available. It's China based location may spell issues in the future due to rumors of a "crackdown". that currently accounts for a large amount of volume. Although Binance targets high frequency traders, it is quite useful for those getting beginning with altcoin trading. Their lack of fiat money deposits may be difficult to swallow for beginners, only supported cryptocurrencies may be deposited. Binance boasts a large number of various cryptocoins for trading.
The main benefit is the ability convert between cryptocurrencies. For instance exchanges such as Coinbase and Gemini are more limited in the number of cryptocurrencies offered. The interface is also conducive to support shorter duration hold time day trading of cryptocurrencies if one were so inclined to deploy that strategy. Binance is an exchange worth looking into and integrating into crypto trading just for their large amount of supported crypto coins.
[su_button url="https://www.binance.com/?ref=16722711″ target="blank" style="3d" background="#3670b3″ color="#000000″ size="7″ icon_color="#1a47a0″ text_shadow="0px 0px 0px #000000″ desc="Get Setup on Binance Today!" title="h1″]Binance Exchange[/su_button]
Features -

8.0/10

Ease of Use -

9/10

Reliability -

7.0/10
Binance is Most Useful for Trading Cryptocurrencies
Features 7/10
Binance is designed for beginners, therefore it has limited trading features. It only offers basic buy and sell for Litecoin, Bitcoin, Bitcoin Cash, and Ethereum; but the accounting tools are unparalleled.
Ease of Use 9.5/10
Binance's simple interface allows buys and sells to go through quickly. It's easy enough for anyone to use, but allows for advanced trading.
Reliability 9/10
Binance may have problems freezing accounts and banks dropping them from service, but their up-time is almost unparalleled.