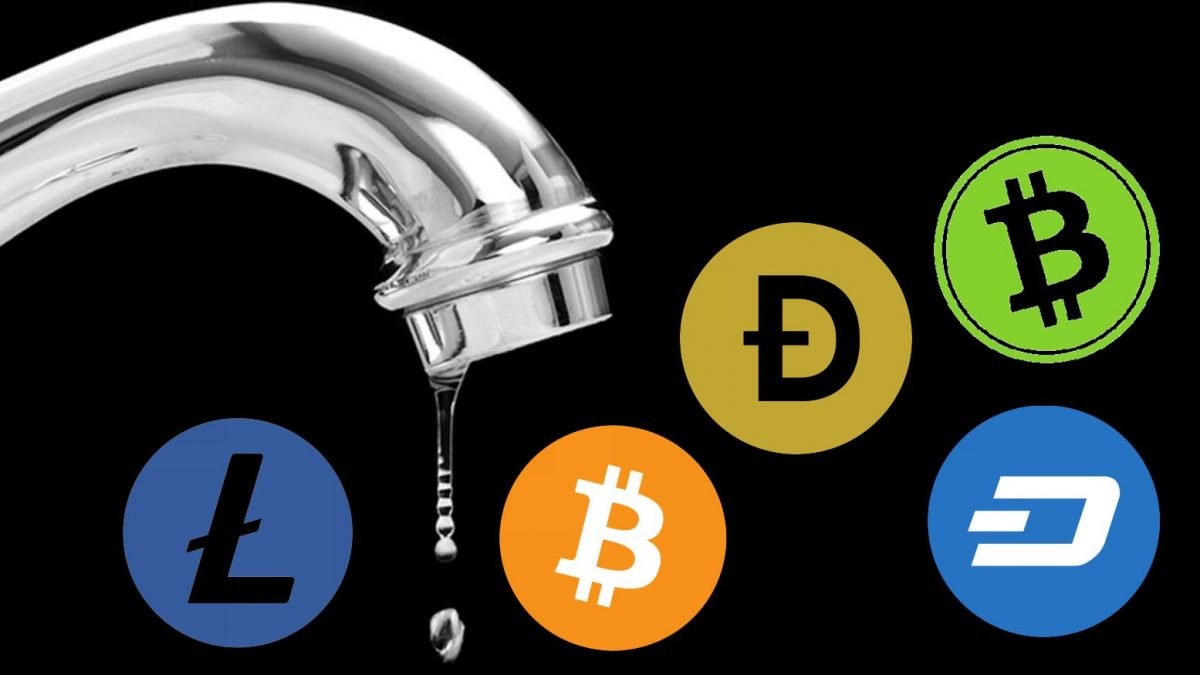 It's easier than ever to get Free Bitcoin and Cryptocurrency

While the world is going through pressing times, cryptocurrency has been quietly climbing the value ladder. The current value of Bitcoin is over $9,700; that's over double its lowest value just 3 months prior (March 2020). But is now the best time to invest your hard earned money? I cannot answer that and I am not here to debate that. What I will do in this article is explain how you can receive FREE cryptocurrency! I will be covering and reviewing the CoinPot Faucets, specifically MoonBitcoin, MoonDogecoin, MoonLitecoin, MoonDash, MoonCash, and BitFun.
TLDR (Too Long Didn't Read); Start claiming free bitcoin and cryptocurrency from the CoinPot faucet family and store all your rewards in one place.
What is a Faucet?
Some savvy crypto investors may already be familiar with faucets but for those who are not, here is a brief explanations:A faucet is a website that will give you a small amount of cryptocurrency, whether it be Bitcoin, Litecoin, Dash, etc., in return for completing a Captcha at particular time intervals. The amount of cryptocurrency received is dependent on several factors, including the current value, amount of ad revenue, and other internal factors. Although faucets will not allow you to quit your day job, they are a good way to dip your toes in the ocean of cryptocurrency or atleast add to your current cryptocurrency stash. But how does this make sense? Websites are giving away free money?!?! Well after taking a look at several faucet websites, it becomes clear advertising makes up a large chunk of their revenue. Most faucets are littered with advertisements and you won't be able to claim if you use an ad-blocker. For the most part, these advertisements are not obtrusive and tolerable for the short amount of time it takes to claim the reward.The important part to note is all of the faucets discussed in this article require ad-blockers to be dissabled in order to claim rewards.But how do you know where to find these faucets? Which are safe to use? Keep reading and I will go over a handful to get you started.
Which Faucets to Use?
There are probably several dozen different cryptocurrency faucets on the internet but this article will focus on the CoinPot "family" of faucets. These include MoonBitcoin, MoonDogecoin, MoonLitecoin, MoonDash, MoonCash, BitFun, and BonusBitcoin. I have used these faucets for years and can attest to their validity. The convenient part about using these particular faucets is the collective organization of storing your cryptocurrencies in a single "microwallet" and being able to convert between different cryptocurrencies. All of the claims you complete in any of the listed faucets will be transferred to a single CoinPot account. I will speak more about CoinPot and their proprietary CoinPot Token in a separate article.
The majority of these faucets function similarly and will be discussed together but BitFun and BonusBitcoin have a slightly different layout and style. I have previously explained and reviewed BonusBitcoin in this article. I still think BonusBitcoin is the most "worth it" faucet but it's always better to claim from several different faucets to maximize your rewards! So without further ado, here are the reviews and explanations.
MoonBitcoin, MoonDogecoin, MoonLitecoin, MoonDash, and MoonCash Review
The "moon" faucets are all identical in their process to claim a reward and navigation of the site. The major difference is the type of cryptocurrency you receive from a faucet claim. As their names imply, MoonBitcoin rewards Bitcoin, MoonDogecoin rewards Dogecoin, MoonLitecoin rewards Litecoin, MoonDash rewards Dash coin, and MoonCash rewards Bitcoin Cash. All rewards can later be converted to a single currency in the CoinPot dashboard.So how do I start claiming my free cryptocurrency? It's as easy as scrolling down the page, clicking the "claim now" button, completing the Captcha, and pressing "Claim". A pop up window will then appear to show you a breakdown of your claimed reward. You may notice a few bonuses have been added to the total cryptocurrency received. These include loyalty, referral, and mystery bonuses. The loyalty bonus is an additional percent for each consecutive day you claim from the faucet (for example, if I claimed each day over the past week, my loyalty bonus would be 7%). The referral bonus is an additional percent for users who claim from your referral. The mystery bonus is just that, a mystery, and can be any random percent from 0% to 100%. The total faucet claim, including all bonuses, is shown at the bottom of the pop up window.After the faucet claim is complete, the rewards are automatically transferred to your CoinPot account. The only thing left to do is wait at least 5 minutes before clicking again. But why is there a 5 minute wait period? The faucets gradually increase the claim amount over the wait period and 5 minutes is the minimum allowed between claims. You can wait days between claims but the amount slowly stops increasing the longer you wait (and your loyalty bonus resets to 0%). Every user will develop their own habits but I have found my sweet spot to be 1 hour between claims.
BitFun Faucet Review
Unlike the other "Moon" faucets, BitFun works a little differently. As soon as you log in, the appearance is brighter and the "Claim" button is right at the top of the screen. Claiming a reward is as simple as clicking the "Claim" button, completing the pop up Captcha, and receiving the rewards. This website is Bitcoin specific and claims can be made every 3 minutes. But there are a few other options to keep yourself entertained between claims such as games, offers, and "dice". Although I have very little experience with these and the dice have been "unavailable" since I started using BitFun, they do provide entertainment that the "Moon" faucets do not. Once again, like the previously mentioned faucets, all of your claims are automatically deposited into your CoinPot account for easy storage. The major drawback to this faucet is no loyalty, referral, or mystery bonuses as found on the "Moon" faucets. This is my least recommended site of the CoinPot faucets because it tends to result in the least rewards but the more faucets you claim from, the more cryptocurrency you will end up with.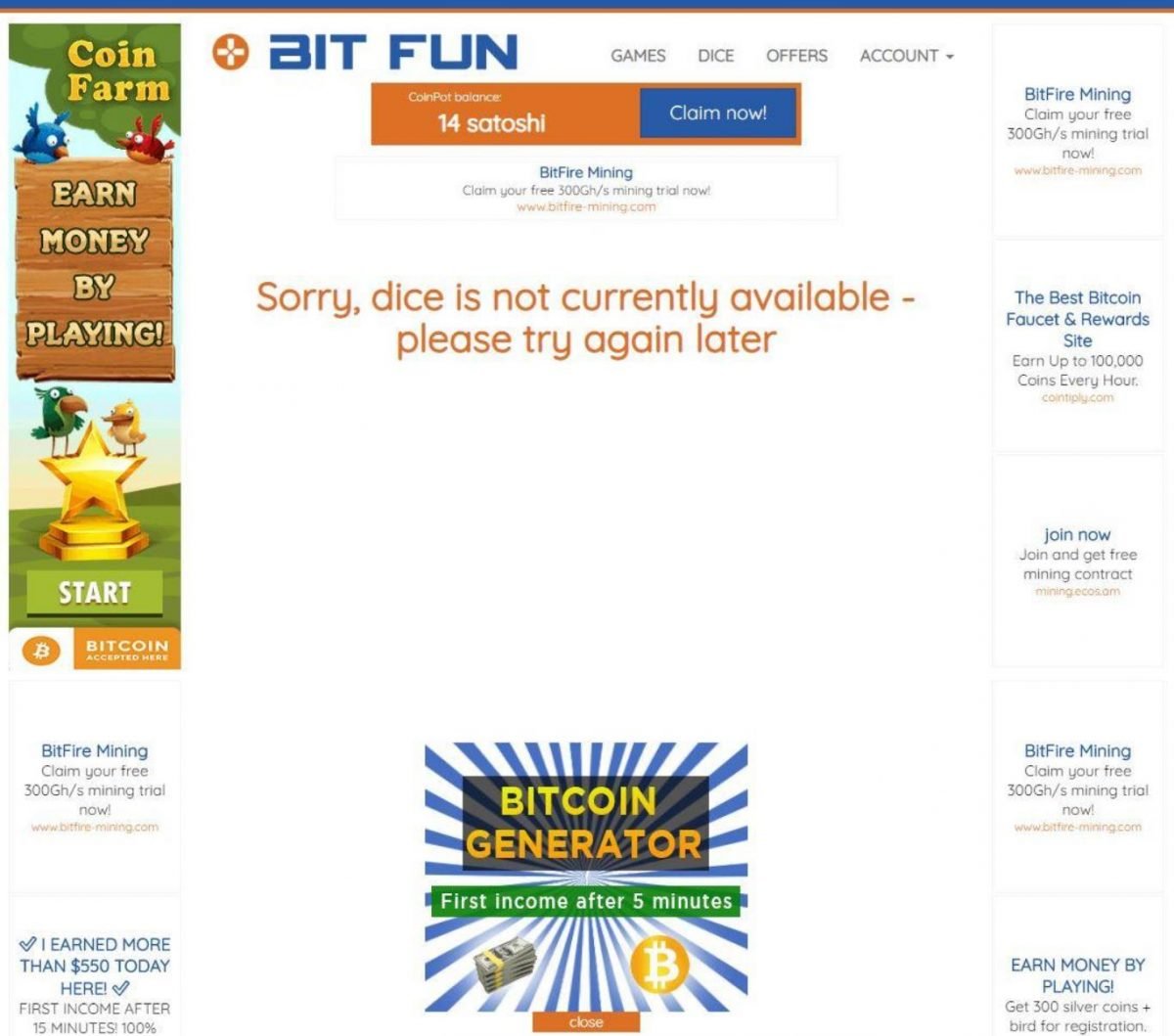 CoinPot links to the Best Faucets in the World
Some investors may already be familiar with faucets but the CoinPot family of faucets is a great addition and a great way to earn a little extra cryptocurrency. The more faucets you claim from, the more cryptocurrency you will end up with. I hope this article provided a little insight into the world of faucets and Free cryptocurrency. Happy faucet claiming everyone!