Bitcoin Miner Review: Antminer S5
Bitmaintech's Antminer line of bitcoin miners have constantly evolved since the S1. The Antminer S5 stands as a testament to Bitmain's technological prowess. Using less than 600 W and hashing from 1.1 Th/s to 1.4 Th/ along with a simple setup, low noise and heat make this bitcoin miner suited for home bitcoin mining and mining farms alike. Will this miner be worth the coin?
Antminer S5 Review: Leaps ahead of the competition
How we got an Antminer S5
The cryptocrooks have always held a soft spot for mining, but for practical reasons, have avoided it a majority of the time. During a recent Craigslist search in NYC for bitcoin, I stumbled across a unique ad. Typically people sell old miners, such as GPU rigs, or various knick-knacks. This time I saw a listing for 2x Antminer S5s at $150 a piece. I quickly crunched the numbers and noticed that this was a rare deal.
It was only natural to tell my partner in crime. We both decided it was worth it get them and do an antminer s5 review. We believe in journalistic integrity and that's what you're going to get!
We met a mysterious man named Yoshi in a small coffee shop. He was "short on time", wasting no time plugging in the miner and awakening any sleeping customers of the cafe. Many people asked if it was a "bomb". We told them it's a computer that generats virtual currency. After exchanging cash with the owner, we were on our way.
A Bitcoin miner for everyone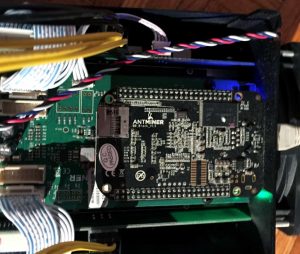 Bitmain's Antminer S5 provides reliability, power, and ease-of-use in a compact, sturdy package.Bitcoin mining previously was a difficult endeavor. It required vast experience of bitcoin and how it works. With the Antminer S5 setup is easy to do with their companion video by Bitmain tech (complete with cool ambient electronic music to set the mood). I've setup miners before including the block eruptor, cointerra terraminer iv, GPU based mining, and CPU based mining. The process is simple enough with the video that even the most novice bitcoin lover can do. For our operation, we used eligius.st's mining pool. It offers 0% pool fees, anonymous setup, and is simple enough to use. On a side note, I couldn't find a way to sign a message with my bitcoin wallet to change the payout and merged mining issues.
Antminer S5 Operation
Once the pooling information has been entered via the IP address login. It is easy to change the frequency of the miner, check the temperature of the boards, and adjust automatic turn-off temperature. Aside from the IP login, minerlink is fully compatible with the Antminer S5.
Antminer S5 Specifications
Hash Rate: 1155 GH/s ±5%
Power Consumption: 560 to 590 W
Power Efficiency: 0.51 J/GH
Chips 60x Bitmain BM1384 Gen3
Rated Voltage: 12V
Dimensions: 298 mm x 137 mm x 155 mm
Cooling: 1x 12038 fan
Operating Conditions: 0 °C to 35 °C
Network Connection: Ethernet
Bitcoin Mining Comes Home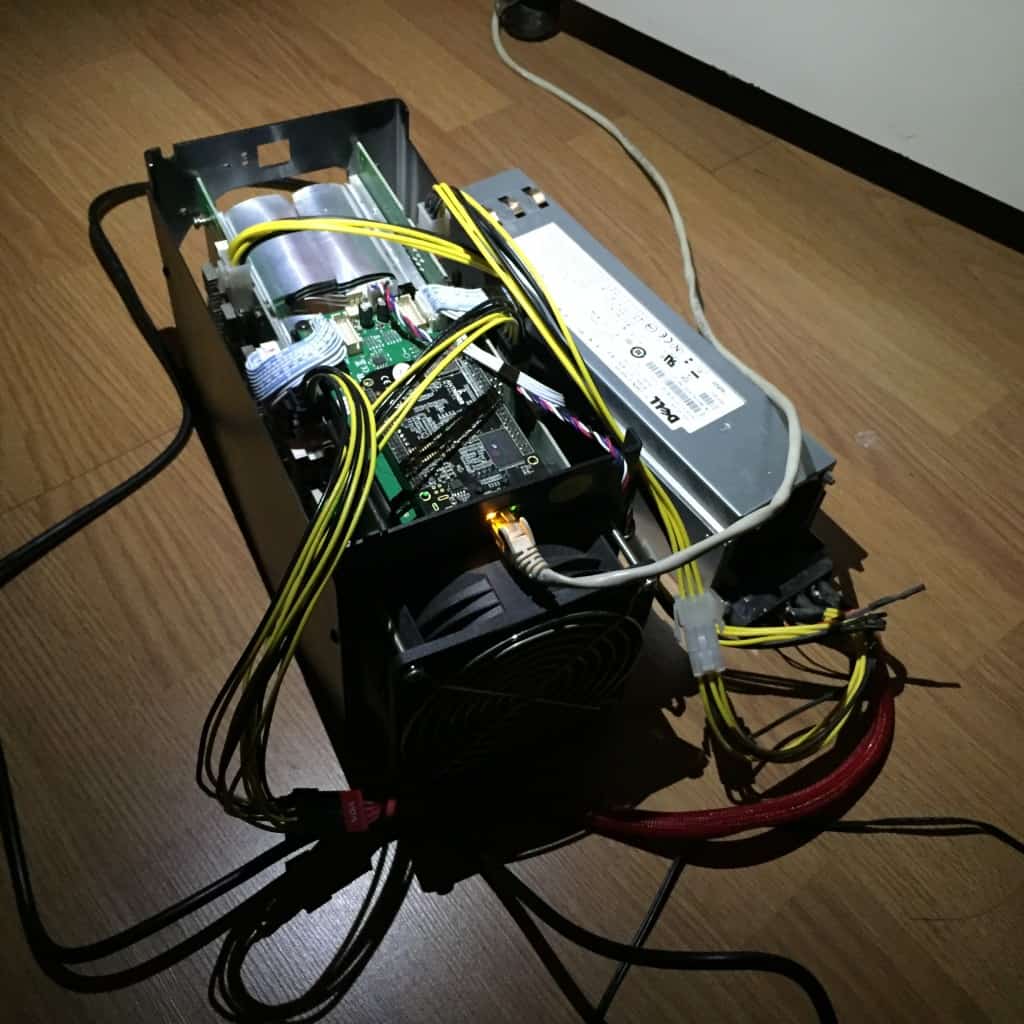 Bitcoin mining hardware is tough to gauge as their profitability quickly declines. If you can pick up an Antminer S5 cheap, go ahead. But do your calculations first to see when your return on investment will be.
Bitcoin mining is no longer for those highly-knowledgeable of the cryptocurrency. With Bitmaintech's Antminer S5, bitcoin mining has never been more user-friendly, easy to run and reliable. Doing due dilligence before investing is the most important part of bitcoin mining. As difficulty and electricity prices vary month to month, it's important to calculate returns within levels of error. Although we won't be using this as a source of income, our experience with it was please enough to recommend it as a bitcoin miner, for the time being.
CRYPTOCROOKS RECOMMENDED
CRYPTOCROOKS VERDICT - Antminer S5 Review
Features -

9/10

Ease of Use -

8.5/10

Reliability -

10/10
Summary
Bitmain's chips bring joy to my heart This relatively quiet, but certainly cool (running) bitcoin miner features high efficiency and world-class stability. This miner is not just catered to mining farms, but realistically can be run from home (while profitable). Features 9.5/10 From changing chip frequency to remote control via minerlink; the Antminer S5 offers anything a bitcoin miner could want. Bitmaintech is promising firmware upgrades to unlock more features, enabling more nonces (whatever that means) and a slew of other important features. Noise is limited compared to other miners tested and demonstrates bitmaintech's commitment to trying to bring bitcoin mining home, into the public. Ease of Use 8.5/10 Although the Antminer S5 is the easiest miner we've ever setup and used. It is not recommended for those unwilling to watch a couple videos to set it up. Although no manual is necessary for setup, it's good to have an understanding of mining, but doesn't require it. Reliability 10/10 Our Antminer S5 was bought from a data center. It has run for more than 2 years at full capacity. We tested our bitcoin miner for 48 hours above the default frequency, enabling a higher bitcoin output, but possibility increasing errors. This was not true and the Antminer S5 remained solid and reliable.