Cryptocurrencies have had a difficult 2018 when compared to 2017's record-setting prices. Bitcoin's price has dropped from $13,908 on January 1 at to $3,757 on December 31, 2018, constituting a 73% drop. Bitcoin's price reached it's all time high at $19,528 on December 17, 2018, since then the price has gone down, correcting.
Looking at the last year, this may have been considered good news, seeing that the reducing volatility has increased the amount of interest from all parties. Almost everyone still has a suspicious eye on cryptocurrencies.
Whales and Early Adopters are Cashing Out
Bitcoin at this point, isn't new, it's over a decade old. Initially, mining was the most profitable and economic way to obtain Bitcoin. Limited exchange options were not as secure, nor liquid as some are now. Because of this, it would be easy to believe that many people mined Bitcoin and forgot about them. Such is the case of the man digging through trash dumps to claim his fortunes. At this time, miners were simply mining as a hobby, but with limited methods to sell, they ended up holding or "investing" in the future without knowing the future. For instance mining $400 of Bitcoin 8 years ago and re-discovering today that the price is over $3,000 led many early adopters to sell. EvenBloomberg even theorized that the so-called Bitcoin Whales helped to fuel the sell off and stabilize lower prices.
Bitcoin's Market Share Drops
With Bitcoin still posting a several 100% gains over the last 2 years. Our assumption is that these people were providing liquidity to exchanges when the bottleneck was the buys. Several accounts till hold a majority of the Bitcoin, and these large wallets are infamous. In fact there are entire groups dedicated to observing these transactions. In fact less than 1% of all bitcoin addresses hold 75% of the Bitcoin in circulation. A majority of these are exchanges, which help reinforce their transparency in case of a "bank run".
Bitcoin has slowly lost market share due to speculative investors reallocating their holdings into other cryptocurrencies, such as: ethereum, ripple, cardano, IOTA. Bitcoin's loss of market share isn't a bad thing, it's merely a sign of shifting desires for investors to hedge their options or tech enthusiasts to assist with the development of alternatives.
Increasing Regulation and Oversight of Exchanges
As more and more cryptocurrency exchanges get hacked, there has become a consolidation of exchanges to reduce the arbitrage that was previously quite popular. Exchanges began to list ICOs and advertisements flooded the market, driving uneducated investors towards risky projects. Most prominently, the SEC issued several warnings regarding ICOs. Many are speculating whether the SEC will eventually approve a USA listed ETF correlating to Bitcoin's price, but several denials are not clear of their direction. One such exchange, avoids USA regulations yet entices many US citizens due to low fees and expansive listings. Tax regulations are becoming clearer, but leave much open to interpretation. It is always recommended to get a professional to assist based on local regulations.
Binance Gains Prominence
In the middle of 2018, Binance's prominence in cryptocurrency became somewhat of a cult following. Many were flocking to the exchange to join the ICO/Token hype train. Among traders, a variety of reasons to switch exchanges became clear, some of them were:
Little to no verification is required to start trading
High volume makes trades quick and easy
All cryptocurrency exchange (100s of coins/tokens/ICOs) – no fiat currencies trading pairs
No fiat exchange pairs
Binance helped to increase investor interest and maintain trading volume at the world's pre-eminent cryptocurrency exchange. The focus shifted from Bitcoin to several new projects proclaiming to "be the next big thing".
Bitcoin's Worst Year is Good News for 2019
Although Bitcoin's price had it's worst year on record, this gives us strong hope for 2019. It could be several years before Bitcoin breaks it's all time high of ~$20k, however; there is the catastrophic risk of AI and quantum computers that could compromise Bitcoin's encryption protocol and therefore, it's security.
2017's bull-run brought Bitcoin from ~$900 up to $12,000, marking over 1,200% rise. But 2018 devastated a majority of those gains with Bitcoin ending 2018 around $3,700. Albeit, this still marks a 300% increase from January 1, 2017 through to December 2018. Henceforth, it was still a good investment.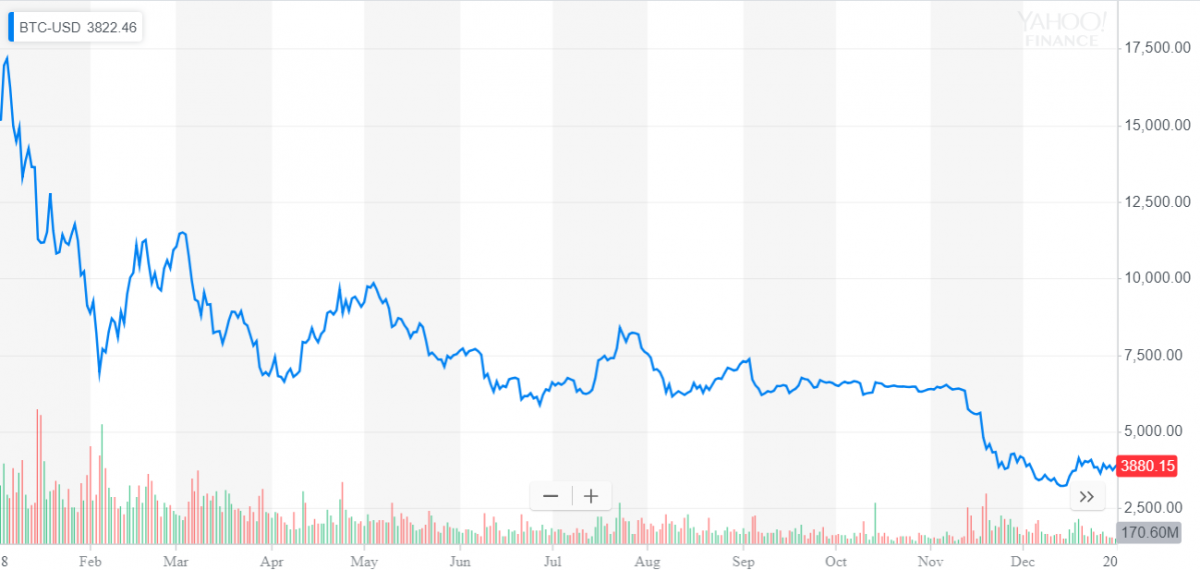 Price stability adds credibility to an asset, and 2018 has been stable relative to other years. It could be assumed that many investors are treating this more like an investment than a speculative bet, as seen in the volume and price correlation. The end of 2017 marked the beginning of widespread hype, but uneducated investors quickly realized that this was not a casino bet.
2019 May Prove to Return to a Bull Run
Although these risks may seem like the end of Bitcoin's bull-run, economic markets are cyclical. Cryptocurrency has already revolutionized the thinking of financial markets and creative viable alternatives to fiat currency. Bitcoin is still young. Therefore, we've said it before, and we'll say it again, cryptocurrency is here to stay.
Say tuned and subscribe to get our predictions for 2019.